Ultimate Aloe® Powder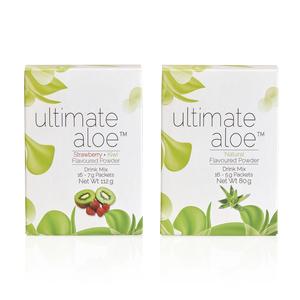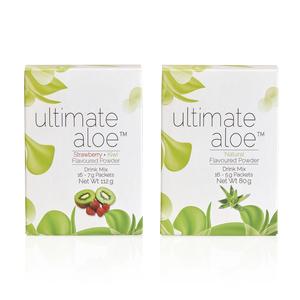 $46.75 AUD
GST of $4.25 AUD included
$0.85 AUD
Benefits
---
A source of over 200 nutrients, enzymes, vitamins and minerals, including 13 of the 17 essential minerals needed for good nutrition
Contains no high fructose corn syrups or artificial sweeteners
Contains no thickeners or emulsifiers
Virtually free of emodin and aloin
Contains natural aloe vera leaf
Source of amino acids
Convenient portion packs to serve those on-the-go
*This product(s) is not intended to diagnose, treat, cure or prevent any disease.
Product Classification
---
Gluten-Free - The finished product contains no detectable gluten (<10ppm gluten)

Vegan - This product is vegan

Drinkable Supplements - Easy-to-swallow supplements in liquid form are immediately available to the body for absorption

Quality Standards - GMP Operations and Standardised Ingredients

Checked For: Heavy Metals, Microbiological Contaminants, Allergens, Potency, Purity and Identity
Why Choose Ultimate Aloe Powder?
---
Aloe vera naturally contains over 200 biologically active components. Ultimate Aloe™ Powder is derived from aloe and retains the qualities of natural occurring Aloe vera through a proprietary extraction process called Activaloe. This process helps to isolate and concentrate the most active polysaccharides in aloe, while removing undesirable components such as aloin and emodin which may cause digestive upset.

Ultimate Aloe™ Powder contains no artificial colours or flavours and is preservative-free. Providing sixteen individual powder packets in each box Ultimate Aloe™ Powder is convenient and easy to take on-the-go or share with friends.

The Aloe Vera in Ultimate Aloe™ Powder is harvested and processed according to sanitary manufacturing practices that use specific time and temperature guidelines. This preserves the natural properties of the Aloe vera plant so you receive the maximum benefits of the product. Ultimate Aloe's quality is analysed for chemical and physical characteristics and in-vitro assays for monitoring biological activity.

Ultimate Aloe™ Powder contains three times more polymers than most commercially available aloe gels and delivers superior support, which our customers can depend on time after time.
Ingredients
---
Aloe vera
Aloe vera is believed to have originated in the warm, dry climates of northern Africa. The oldest reference to aloe can be found in the Ebers Papyrus, an Egyptian medical document written between 1553-50 B.C.E. Aloe, in one form or another, has been used as a health agent or cosmetic ingredient for thousands of years.

The juice of the plant continues to gain in popularity as an effective health drink and testing has shown that aloe vera contains amino acids, enzymes and a large number of other health influencing compounds.
Aloe vera is rich in polysaccharides and is a source of minerals such as iron, copper, calcium, zinc, chromium, manganese, potassium, sodium and magnesium. Minerals are important for the proper functioning of various enzyme systems in metabolic pathways and some minerals act as antioxidants.

Aloe vera promotes healthy digestion by providing natural plant enzymes that break down food. These enzymes include amylase (starch); cellulose (cellulose); lipase (water insoluble lipids); and alkaline phosphatase (proteins).

Poor diet and stress cause the mechanical function of the colon to be disrupted. This leads to intestinal discomfort, incomplete digestion of food, and establishes a favourable environment for foreign bacterial and fungal growth.
FAQ
---
How do I take Ultimate Aloe Powder?
Pour one packet of Ultimate Aloe Powder into 118ml of water and mix well. Take once daily or as directed by your healthcare provider.

How many calories are in one serving of Ultimate Aloe Powder?
The natural flavour contains 20 calories/0.08 kilojoules per serving and the strawberry kiwi flavour contains 25 calories/.10 kilojoules per serving.

Does Ultimate Aloe Powder need to be refrigerated?
No, it can be stored safely at room temperature.

Why does the taste vary?
The taste will vary from lot to lot due to the seasonal time of harvest. The sun and the amount of water the plants receive are directly responsible for the ripeness of the plants. Just as with any vegetable, you will have a different taste depending upon the growing process.

What is so important about using whole leaf aloe vera?
Modern chemical analysis of aloe leaves shows that the active agents that are responsible for the plant's widely celebrated health properties are concentrated in the green skin (rind) and yellow sap (latex), which is found just under the skin.*
The juice of aloe contains at least 99.1 percent water, which means that the polysaccharides (acemannan and other polypeptides), glycoproteins, and other components constitute less than one percent of the juice. To date, over 200 active components have been identified including fatty acids and immune-supporting compounds.*

Why is the aloin removed from the aloe?
Fresh whole leaf aloe vera contains aloin, a very powerful laxative, which must be eliminated from the aloe if it is to be used safely. Aloin is a compound, which is produced from emodin and glucose. When whole leaf aloe is pasteurised and the aloin is eliminated, the aloe is safe for both topical and internal use.

What is the history of aloe vera use in promoting health?
The idea that Aloe vera can promote health is as old as the Pyramids. It is believed to have originated in the warm, dry climates of northern Africa. It has been found referenced in ancient hieroglyphics, which indicate it was a product that was traded between the Egyptians and the Sumerians as many as 6,000 years ago. It was first described in the Papyrus Ebers, an Egyptian book written between 1553-50 B.C.E. The ground whole leaf of the plant has been used as a health agent or cosmetic ingredient for thousands of years in promoting normal healing and healthy digestion. The soothing powers of aloe vera were used in Persia and India for centuries. In addition, both Chinese and Japanese civilizations have taken advantage of aloe vera's beneficial properties. Greeks and Romans also used aloe vera in supporting health as early as the first century. Ancient Greeks obtained it from the island of Socotra in the Indian Ocean. In the 10th century C.E., its soothing powers were recommended to the British King Alfred the Great by the Patriarch of Jerusalem. Muslims who have made the pilgrimage to Mecca are entitled to hang an Aloe plant over their doors as a talisman against evil.
If you look at the history of aloe as a topical application or cosmetic ingredient, there are three types of evidence that have been used to support its value, including testimonials, scientific research and chemical analysis. Reports show that as early as the 1930s, the gel was used to soothe burns.
Many individuals apply the gel to minor cuts, abrasions and burns. Aloe vera products enjoy growing public interest. Strong examination of aloe vera continues. Most of the modern research has focused on aloe vera's ability to support normal healing.
The juice of the plant continues to gain in popularity as an effective health supplement. Hundreds of chemical reports show that aloe vera contains amino acids, enzymes and a large number of compounds.*

How does aloe work?
Aloe vera works because the green skin of the plant produces and the sap stores at least six beneficial health agents: lupeol, salicylic acid, urea nitrogen, cinnamonic acid, phenol and sulfur. In addition, the plant also produces at least 23 proteins (polypeptides) and at least four mannan sugars, which promote overall health.

*This product(s) is not intended to diagnose, treat, cure or prevent any disease.

Science
---
Andersen D., et al. In vitro virucidal activity of selected anthraquinones and anthraquinone derivatives. Antiviral Res. 16(2):185-96, 1991.
Ashleye, A.D. Applying heat during processing of the commercial Aloe Vera gel. Erde International 1, 40-44, 1983.
Bautista-Perez R., et alI. In vitro antibradykinin activity of Aloe barbadensis gel. . J Ethnopharmacol. 93:89-92, 2004.
Blitz, J. J., et al. Aloe Vera gel in peptic ulcer therapy: Preliminary report. J Am Osteopathol Soc. 62:731-735, 1963.
Boudreau M., et al. An evaluation of the biological and toxicological properties of Aloe barbadensis (miller), Aloe Vera. J Environ Sci Health C . 24:103-54, 2006.
Cole, H.N. and Cole, K.K., Aloe Vera in Oriental Dermatology. Arch. Dermat. And Sympt, Vol. 47, PP. 250, 1943.
Davis, R. H., et al. Wound healing. Oral and topical activity of Aloe Vera. J Am Podiatr Med Assoc. 79(11):559-562, 1989.
Eamlamnam K., et al. Effects of Aloe Vera and sucralfate on gastric microcirculatory changes, cytokine levels and gastric ulcer healing in rats. World J Gastroenterol. 12(13):2034-9, 2006.
Gjerstad, G and Riner, T.D. Current Status of Aloe as a Cure-All. Am. J. of Pharm, 140 (2): 58-64, 1968.
Gjerstad, G. An appraisal of the Aloe Vera juice; College of Pharmacy, University of Texas, Austin. Vol. 84: pps. 43-46, 1969.
Korkina, L., et al. The protective and healing effects of a natural antioxidant formulation based on ubiquinol and Aloe Vera against dextran sulfate- induced ulcerative colitis in rats. Biofactors. 18(1-4):255-264, 2003.
Langmead L, et al. Randomised, double-blind, placebo-controlled trial of oral aloe Vera gel for active ulcerative colitis. Aliment Pharmacol Ther. 19(7):739-47, 2004.
Langmead L, Rampton DS. Review article: complementary and alternative therapies for inflammatory bowel disease. Aliment Pharmacol Ther. 1;23(3):341-9, 2006.
Langmead L., et al. Anti-inflammatory effects of aloe Vera gel in human colorectal mucosa in vitro. Aliment Pharmacol Ther. 19(5):521-7, 2004.
Robinson M. Medical therapy of inflammatory bowel disease for the 21st century. European Journal of Surgery. Supplement: 582: 90-8, 1998.
Zhang X., et al. Isolation, structure elucidation, antioxidative and immunomodulatory properties of two novel dihydrocoumarins from Aloe Vera. Bioorg Med Chem Let.
TLS Product Reviews
---
Displaying reviews 1 - 5 of 9
---
Love the sachets for travelling
Thank you for having the aloe in sachets. Perfect for travelling. It's a must have as we tend to overindulge during holidays, or not eating proper food, so the aloe is great. Helps with digestion greatly.

Response from Customer Service:
5/4/2022
Dear Valued Customer,
Thank you for taking the time to share your thoughts on our Ultimate Aloe Sachets, we agree these are perfect for on the go! We are happy to hear you are pleased with the product!

Thank you again!
Market Australia
---
蘆薈汁很好喝!蘆薈粉很方便攜帶,另外想請問,蘆薈粉特別標記12歲以下、經期、懷孕或哺乳期婦女、12歲以下孩童、腸胃不適者避免食用,但蘆薈汁沒特別註明是什麼原因呢?
Response from Customer Service:
9/6/2022
感謝您聯絡美安公司。蘆薈粉外包裝上的注意事項為因應衛生福利部於109年10月7日預告訂定之「食品原料蘆薈之使用限制及標示規定」草案,而提前標示於外包裝上。但衛生福利部再度於111年3月17日公告訂定「食品原料蘆薈之使用限制及標示規定」針對蘆薈作為食品原料使用時之相關規定,此規定預計於112年1月1日生效。依據此規定,國產產品之製造日期或進口產品之輸入日期於規定生效前者,可繼續販賣至其有效日期屆至為止。美安台灣公司之所有產品皆依據衛生福利部食品藥物管理署「食品安全衛生管理法」之規定辦理,為合法進口之產品,請您安心食用。提供您參考,謝謝您。
---
吸收快,效果好!
Response from Customer Service:
25/5/2022
親愛的 優惠顧客 您好 :
感謝您撥冗留下對 蘆薈粉 的看法。我們很高興聽到您對該產品感到滿意。
超連鎖店主服務部
---
很喜歡這個方便的蘆薈粉,不知道是否可以出「蔓越莓蘋果」口味的
Response from Customer Service:
10/5/2022
親愛的 優惠顧客 您好 :
感謝您撥冗留下對 蘆薈粉 的看法。我們很高興聽到您對該產品感到滿意。謝謝您提供寶貴意見與建議,您的建議將作為日後產品開發與服務品質提升的參考。
超連鎖店主服務部
---
我想詢問為什麼草莓奇異果口味的克數會大於原味呢?
Response from Customer Service:
15/5/2022
感謝您聯絡美安公司。蘆薈粉 - 原味與蘆薈粉 - 草莓/奇異果口味為兩個獨立的配方。此外,蘆薈粉 - 草莓/奇異果口味經過調味,因此這兩項產品的重量不相同。提供您參考,謝謝您。