TLS Journal
FEATURED RECOMMENDATIONS
Benefits
---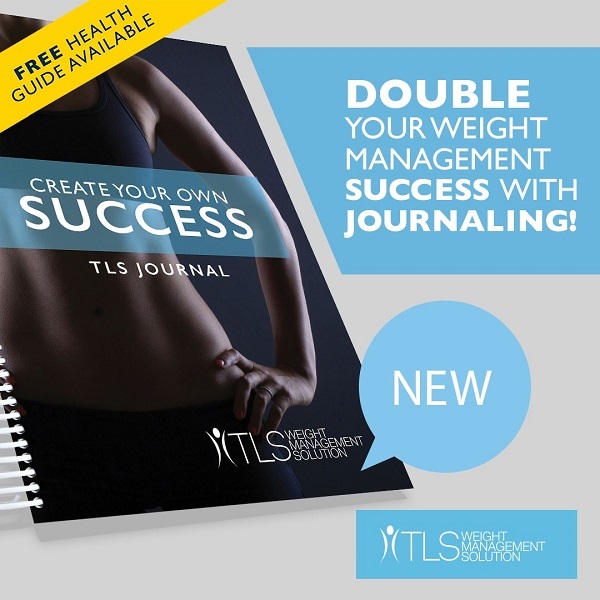 Studies actually show that people who journal can lose double the weight than people who don't
Comprehensive Journal to help you navigate through TLS Weight Management Solution and reach your physical goals
Offers 12 weeks of journaling to record your weight management journey on meal and serving sizes, water intake, supplementation, exercise and sleep
A5 wire bound sized Journal, making it easy to turn pages and take with you on-the-go
Journal starts off with detoxing, allowing you to track your progress during our recommended detox week
Provides valuable healthy eating tips to keep you on track
Helps you to identify the root of your weight management struggles
Helps with planning for challenges you may need to overcome
Features weekly weigh-ins and quarterly measurements to track your success
Contains daily goal setting
Features weekly testimonials from real people who have achieved success with TLS
Helps keep you inspired with daily motivational quotes
Includes daily stress reduction and relaxation techniques
You should consult your physician before beginning this or any other weight-management program.
Why you will love our TLS Journal
---
Did you know that people who journal lose more weight than people who don't? Studies actually show that people who journal can lose double the weight. Why is this so important? According to the Australian Government's Australian Institute of Health and Welfare, obesity rates are continuing to rise in Australia creating associated health problems. Statistics relay that an alarming 63%, almost 2 in 3 Australian adults are overweight or obese.
Therefore, let the TLS Journal be the centre of your journey with TLS Weight Management Solution as you reach your health goals. The TLS Journal is the first step combined with the FREE TLS Health Guide in securing your weight management commitment to both TLS, and yourself. This comprehensive Journal is an essential tool for managing weight and changing your lifestyle, for good as it is specially designed to guide you through the 12 week program with ease.
Space for journaling about food, sleep, water intake, supplementation, exercise and progress is provided. Every day, you will be supported nutritionally and emotionally — allowing you to transition smoothly into your new lifestyle, without falling back on poor dietary habits. You will be taught healthy behaviours and techniques to incorporate into your lifestyle; ensuring that you stay on track. Plus, this A5 wire bound sized Journal makes it easy to turn pages and take with you on-the-go for those with active lifestyles.
The TLS Journal starts off with detoxing, allowing you to track your progress during our recommended detox week. Then, as you navigate through TLS Weight Management Solution, this Journal provides valuable healthy eating tips to keep you on track, helps you to identify the root of your weight management struggles, helps with planning for challenges you may need to overcome, contains daily goal setting, helps keep you inspired with daily motivational quotes and includes daily stress reduction and relaxation techniques. In addition, the TLS Journal features weekly weigh-ins and quarterly measurements to track your success as well as weekly testimonials from real people who have achieved real success with TLS globally.
Whether your goal is to lose weight or build muscle, the TLS Journal coupled with the TLS Health Guide will supply the support and information you need for the ultimate lifestyle change. Armed with our Health Guide & Journal, you will achieve the goals you set, manage your weight and feel great!
FREE TLS Health Guide!
---
Incorporate the full TLS weight management program with free access to the new TLS Health Guide and other free resources all available on our TLS Slim weight management website au.tlsslim.com.

Click here for the direct download link to the TLS Health Guide.

Key Benefits of TLS Health Guide:
Comprehensive guide on how to follow TLS Weight Management Solution
Explains what TLS is , and how it works
Includes one day of sample meal plans for each TLS Menu Plan
Includes a Dining Out Guide
Helps you to identify the root of your weight management struggles
Explains how to read labels
Explains why you should eat certain foods and when you should be eating them
Targets Supplementation
Education on detoxing, recommendations for glycaemic-impact eating, how to overcome objectives, discover fat burning foods, discover how to speed up your metabolism and learn about stress reduction
A5 sized guide book, easily accessible for download, printing or viewing on your mobile devices
Compliments the TLS Journal so you can accurately track your progress!
TLS Overview: Why TLS is the best weight management program!
---
Welcome to the TLS Weight Management Solution! Learn how to keep your body in fat burning zone. TLS Weight Management Solution encompasses four components: low-glycaemic impact eating, body composition, science-based supplementation and education, offering an extensive plan that covers everything you'll need to get fit and trim. TLS is about helping you make healthy choices while still eating a normal, diverse diet. It's about education and implementation, not limitation. The only limits are those you put on yourself. TLS is backed by results: real people, real stories, real results! TLS is for anybody. Whether you are trying to manage your weight or want to learn how to eat healthier. With a great plan like TLS, the possibilities are endless! Visit au.tlsslim.com to get started today. This will be the last program you will ever need!
Frequently Asked Questions
---
What is the TLS Journal?
The TLS Journal is a comprehensive, inspirational tool for tracking your weight management progress through journaling. This A5 sized book allows you to journal about food, sleep, exercise and your progress. This is important because journaling helps to reshape thinking and learned behaviours — giving you room to set new goals, and achieve them.
How does the TLS Health Guide & TLS Journal assist with weight management?
The TLS Health Guide provides information about weight management, and how to achieve it. It explains weight gain, how it happens and how to prevent it. The TLS Journal also provides support with space for journaling, goal setting and motivational quotes. It has been proven that people who journal lose more weight than people who don't. Studies show people who journal can lose double the weight.
Who should use the TLS Journal & TLS Health Guide?
Anyone interested in achieving optimal body composition, as well as anyone in search of a comprehensive weight management plan to support them with their weight loss efforts.
How should I use the TLS Journal and TLS Health Guide?
Collectively, the TLS Health Guide and TLS Journal are designed to take you through each day of the 12 week program, and they both should be used collectively on a daily basis.
What else can I do to enhance my results while using the TLS Journal & TLS Health Guide?
To enhance your results, we suggest utilising our FREE TLS Slim Weight Management website, located at au.tlsSlim.com. This website provides online support, recipes, personalised weight management plans and supplement recommendations, exercise videos, educational videos, BMI & Body Fat Calculators, more TLS success stories, health & wellness blog, printable grocery lists, access to available online weight management parties, interactive tools and so much more; which will further enrich your weight management experience. We also highly recommended using our supplements, which are specially formulated to support weight management struggles*.
*Individuals following the TLS Weight Management Solution as part of a healthy diet and exercise program can expect to lose 0.45-0.9kg (1-2lbs) per week.
TLS Product Reviews
---
Displaying reviews 1 - 5 of 12
---
Having to record down what we eat and do during our weight management journey definitely helps us to keep ourselves in check.
---
An indispensable Tool for Weight Management
Not many people realized what a great help this journal is. I used it on my myself and it is impressed me with the careful and thoughtful design, to support my weight management goal, step by step, day by day grind.
---
Comprehensive tool for weight management!
Having this journal is like having a daily roadmap and detailed guidance for weight management journey! Simply love its handy-sized, ring-binded for easy flipping of the pages. Best of all, nuggets of wisdom in each page to motivate me on my weight management journey!
---
Great helper to keep customers on track
I found the TLS journal and health guide are really helpful tools to keep my customers on track with their weight management journey. I personally love the 'gratitude' section within the journal which reminds me to have that positivity and being thankful in life. The health guide is loaded with heaps of useful health and weight management information.
---
I really like this journal, which helps me keep on track of my TLS journey. The before & after photos in the journal also keeps me motivated!!