TLS® 30-Day Jump-Start Kit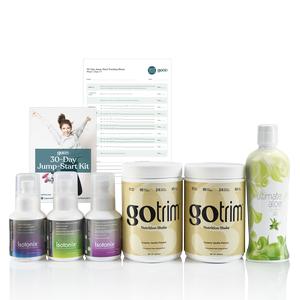 $358.50 AUD
$479.00 AUD
GST of $32.59 AUD included
$6.52 AUD
Includes: TLS Nutrition Shakes (28 servings); Isotonix OPC-3 (90 servings); Isotonix Multivitamin (90 servings); Ultimate Aloe Juice (16 Servings); Isotonix Isochrome (90 servings); Tracking Sheet & Booklet
SKU: 730DAY
FEATURED RECOMMENDATIONS
Benefits
---
TLS Nutrition Shake
A healthy meal replacement shake
Great tasting nutrition shake available in two flavours: Chocolate Delight and Creamy Vanilla
Includes 24 vitamins, minerals and essential nutrients, including eight B vitamins, and also antioxidants vitamin C and E for protection from free radical damage
Easy to prepare - just add water or milk, blend and enjoy
Convenient, re-sealable canister for easy use and storage
Excellent source of fibre, contains 10-11 grams of dietary fibre
Feel full and stay satisfied: Packed with 18 grams of high quality soy protein to handle your hunger
When used in conjunction with regular exercise may contribute to weight loss or weight management
No colour added
Good source of calcium
Low in saturated fat
No added sugar
Gluten free
Ultimate Aloe Juice
Contains the IASC (International Aloe Science Council) seal that certifies the aloe content and purity
A source of over 200 nutrients, enzymes, vitamins and minerals, including 13 of the 17 essential minerals needed for good nutrition
Contains no high fructose corn syrups or artificial sweeteners
Contains no thickeners or emulsifiers
Virtually free of emodin or aloin
Contains natural aloe vera leaf
Source of amino acids
Contains ActiveAloe™ which is enhances aloe vera's biological activity
Harvested and processed to ensure the body receives maximum benefits
Great tasting and refreshing flavours!
Isotonix Multivitamin
Multivitamin and multimineral formula containing 100 percent or more of the daily value of many essential vitamins and minerals
Maintains immune system health
Support healthy stress response in the body
Promotes healthy digestion
Helps promote blood circulation to the peripheral areas of the body (legs, hands and feet)
Isotonix OPC-3
Reduces free radicals formed in the body
Promotes blood vessel health
*Anti-Inflammatory
Helps enhance healthy blood circulation
Helps promote healthy joint function
Supports healthy cardiovascular system function
Helps promote skin health
Helps support healthy cholesterol
Helps support healthy blood sugar
Isotonix Isochrome
Supports healthy cardiovascular system function
Promotes energy levels
Supports muscle strength
Helps support healthy blood sugar
A chromium based formula providing important nutrients and more which may have been lost due to changes in diet and exercise habits
* If symptoms persist, seek the advice of a healthcare professional.
Why Choose the TLS® 30-Day Jump-Start Kit?
---
These days, weight management is depicted as a battle with complex programmes, extreme exercise classes, highly restrictive diets and expensive gadgets. We believe weight management should be simple. Our lives are stressful enough without adding in complicated weight management regimes — getting healthy should be straightforward and achievable for everyone. Which is why we've developed the TLS® 30-Day Jump-Start Kit, designed to make getting back on track to health and wellness a cinch.

Inside the 30-Day Jump-Start Kit you'll find the 30-Day Jump-Start Booklet and a Tracking Sheet, because weight management is a journey and you need a guide. The kit also includes six of our most popular products to enhance your weight management efforts and nourish your body with essential vitamins, minerals and nutrients.

During Phase 1 you'll start taking the Ultimate Aloe Juice. The great tasting Ultimate Aloe Juice is a source of over 200 nutrients, enzymes, vitamins and minerals, including 13 of the 17 essential minerals needed for good nutrition. Another powerful product you will use is Isotonix Isochrome, this distinctive combination of essential compounds provides nutrients like chromium and Co-enzyme Q10 that can help to support healthy blood sugar and improve the success of most weight-management programs.

For further support during Phase 1 of your Challenge we've included our Isotonix Multivitamin, which delivers 100% or more of most of the recommended daily value of essential vitamins and minerals. Isotonix Multivitamin supplements dietary deficiencies and helps maintain immune system health, support blood health and circulation, support healthy stress response in the body, and promotes healthy digestion. To round off your nutritional needs in Phase 1, the kit also contains Isotonix OPC-3 with Pycnogenol® which helps fight oxidation and free radicals in the body.

To help round out your nutritional needs during Phase 2 of your Challenge, we've included TLS® Nutrition Shakes in the kit. The shakes provide additional protein to fuel your body. For continued support during Phase 2, continue taking Isotonix Isochrome, Isotonix OPC-3 and Isotonix Multivitamin.

When used as directed, these products provide a solid foundation for maximising your metabolism and achieving successful weight management. Refresh your system and reach your weight management goals with this great new kit from TLS Weight Management Solution.
FAQ
---
Who should use the TLS® 30-Day Jump-Start Kit?
Anyone who is looking for an easy-to-follow, cost-effective, all-inclusive kit that promotes optimal body composition and addresses the essentials of effective weight management. Whether you need to tone up, manage your weight or want to jumpstart a longer weight management journey — the 30-Day Jump-Start Kit is for you.

How do I use the 30-Day Jump-Start Kit?
During Phase 1, take Ultimate Aloe Juice, Isotonix® OPC-3 and Isotonix Multivitamin and Isotonix Isochrome supplements. In Phase 2, use the TLS® Nutrition Shakes as snacks and continue taking the Isotonix OPC-3 and Isotonix Multivitamin and Isotonix Isochrome supplements. For best results, use in conjunction with the 30-Day Challenge Booklet. Follow the nutritional directive outlined in the Booklet and take supplements as directed.

Why is Isotonix Isochrome ideal for the TLS Weight Management Program?
Isotonix Isochrome is a unique formula of compounds including vitamins, minerals, amino acids, Co-enzyme Q10 and enzymes. Isochrome helps to enhance the body's energy production, cardiovascular health and muscle health which all are ideal in a fitness or weight management, all important for everyday life. This is why this supplement is ideal as part of the TLS Weight Management Solution.
This is why we have Isotonix Isochrome as a key component to our TLS Fat Shredder program. Isochrome incorporates both chromium picolinate and chromium argininate into its formulation, ensuring that the benefits of chromium - blood sugar and cardiovascular health maintenance, promotion of muscular strength - are provided through two distinct pathways. These are then combined with other compounds such as B vitamins, Coenzyme Q10 and L-Carnitine, each of which work to support Isochrome's unique benefits for energy and weight management.

How do TLS Nutrition Shakes assist in weight loss/management?
TLS Nutrition Shakes assist in weight loss by providing a source of quality protein and fibre — much-needed nutrients that also promote a feeling of fullness.

Why is taking a vitamin supplement important?
A vitamin may be broadly defined as a substance that is essential for the maintenance of normal metabolic function, but which is not produced in the body and therefore must be consumed from a source outside the body. They are necessary elements in the process of converting food to energy and in the growth and repair of body tissue. Reduction of vitamin levels over extended periods can result in vitamin deficiency. These shortages may lead to symptoms, which can include loss of appetite, loss of body weight, increased irritability, and sleeplessness or constant drowsiness. Deficiencies of this nature can be easily avoided by adequate vitamin intake.

Why are Isotonix® supplements better than standard supplements?
Isotonix formulas are more effective than standard supplement formulas because they offer efficient delivery of vitamins, minerals and nutrients into the bloodstream. The stomach has very little work to do because the pH and tonicity are carefully designed to allow the stomach to quickly release all the nutrients into the small intestine.

Do I have to exercise to see results?
In Phase 1 exercise is not recommended, but during Phase 2 exercise is essential. As with most weight management supplements, these products are designed to be taken in conjunction with a healthy diet and exercise. The steady loss of body fat combined with a steady increase in muscle tissue, achieved through proper nutrition and exercise, is the proven method for achieving weight and fitness goals.
TLS Product Reviews
---
Displaying reviews 1 - 5 of 14
---
Best way to lose that quarantine weight
The tracking sheet is amazing. Makes following the plan easy. No guess work needed in what you have to do daily!
---
Best way to start your journey with TLS
Best decision I made was to join the TLS Facebook group during Fit For Fall in Canada. This kit helped me to stay on track, gave me amazing results. TLS is a lifestyle, I can eat when I'm hungry, it's not a diet. Low Glycemic-Impact eating is key! I'm now helping other's to reach their goals and it's a no brainer to start with this TLS 30-Day Jump-Start Kit.
Response from Customer Service:
29/3/2021
Dear Valued Customer,

Thank you for taking the time to share your thoughts on the TLS 30-Day Jump-Start Kit! We are happy to hear you are pleased with the products!

Thank you again!
The Product Information Team
---
This is the best product that helped me in my weight loss ever! By properly nourishing the body, it has made it possible to lose some weight the healthy way. I have tried other similar kits years ago, I lost water weight but it did not help my body convert into a fat-burning machine. This one totally resets my metabolism so I can enjoy healthy foods and continue to lose weight!
---
Amazing weight management
This product really work to help with my weight management. I am loving it . It is easy to follow and allows you to still eat good food.
---
I have been using it and follow the program for 30days. I lost 2 kgs only, but I lost 8cm on waist, 3cm on hips, 1.5cm in thigh..also body fat % decrease 1.5%... I am so please on it!!!