Isotonix® Vitamin C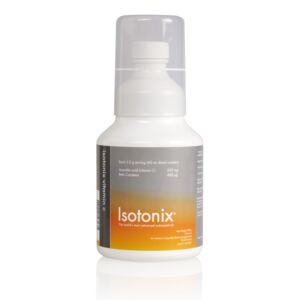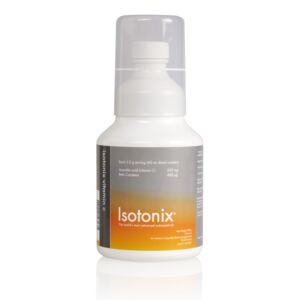 $61.25 AUD
GST of $5.57 AUD included
$1.11 AUD
Single Bottle (90 Servings)
SKU: 713047
FEATURED RECOMMENDATIONS
Primary Benefits
---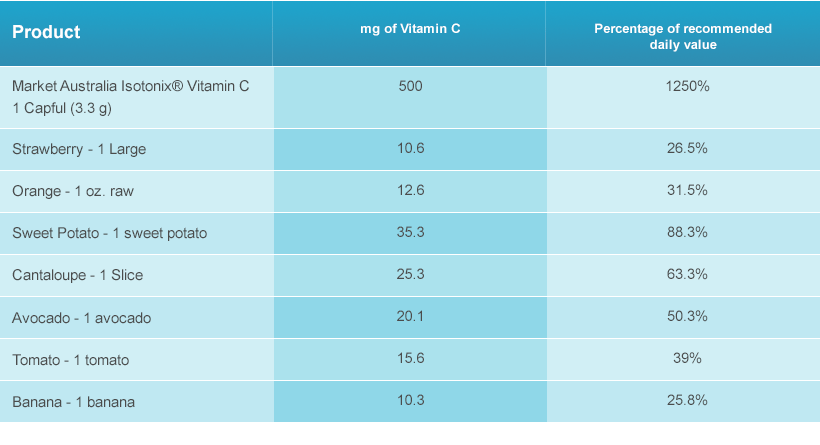 *Prevention of vitamin C nutritional deficiencies
Improves immunity
**Decrease common cold duration
Improves healing of minor skin wounds
**Helps decrease symptoms of mild allergies
Reduce free radicals formed in the body
Promotes body adaptation to stress
Support healthy eye function
Helps promote capillary health
Helps promote blood circulation to the peripheral areas of the body (legs, hands and feet)
Helps enhance healthy blood circulation
Support joint mobility
**Decreases nervous tension
**Reduce occurrence of symptoms of mild anxiety
**Decrease symptoms of mild varicose veins
**Reduce the severity of symptoms of mild upper respiratory tract infections
**Decrease symptoms of mild allergic rhinitis
One serving supplies 500 mg of vitamin C, the equivalent of 7 oranges, 16 lemons, or 6 grapefruits
This vegetarian product contains no added wheat, soy, yeast, gluten, artificial flavour, salt, preservatives or milk
Offered with the fastest and most efficient delivery system of all nutraceuticals – Isotonix
*Vitamins and/or mineral supplements should not replace a balanced diet.
**If symptoms persist, seek the advice of a healthcare professional.
Product Classifications
---
Gluten-Free - The finished product contains no detectable gluten (<10ppm gluten)
Vegan - This product is vegan
Isotonic-Capable Drinkable Supplements - Easy-to-swallow supplements in liquid form are immediately available to the body for absorption
Quality Standards - GMP Operations and Standardised Ingredients
Checked For: Heavy Metals, Microbiological Contaminants, Allergens, Potency, Purity and Identity
Why Choose Isotonix Vitamin C?
---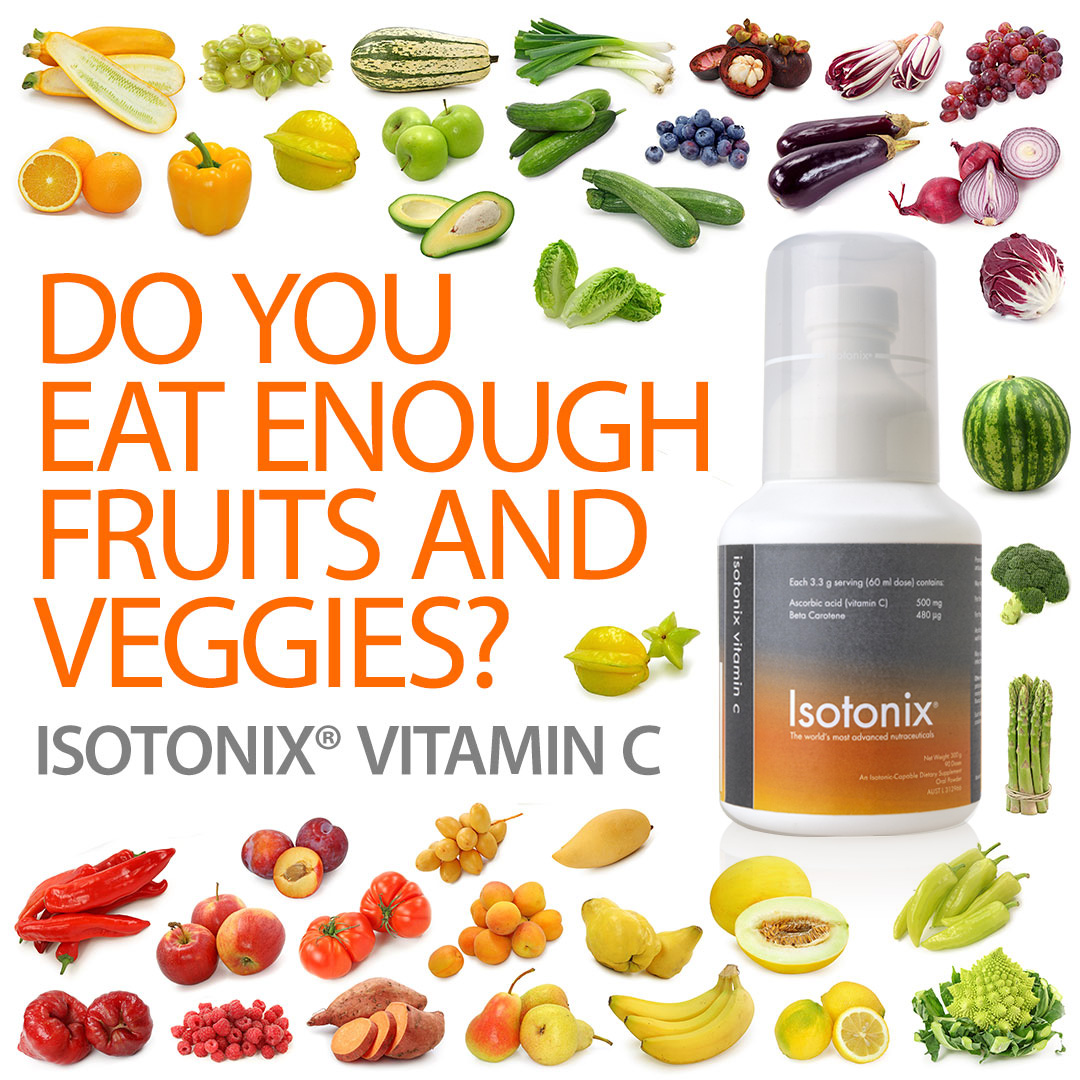 Fuel your immunity with the world's most popular vitamin – vitamin C! Vitamin C is an antioxidant that reduces free radicals formed in the body and plays a significant role in a variety of metabolic functions. It strengthens the immune system, prevents vitamin C nutritional deficiencies, and helps decrease common cold duration. It also helps with skin and eye health. Only Isotonix offers Vitamin C using isotonic delivery, providing maximum nutrient absorption.
Isotonix Vitamin C is an isotonic-capable dietary supplement made with a combination of vitamin c, beta-carotene and potassium in a delicious natural orange flavour. The most convincing evidence suggesting the need for vitamin C supplementation is based on the fact that humans are incapable of producing vitamin C in their bodies. Isotonix Vitamin C contains 500 mg of vitamin C to help with your immune system to give your body that added boost during cold season. One serving supplies 500 mg of vitamin C, the equivalent of 7 oranges, 16 lemons, or 6 grapefruits. It is great for helping with allergies and the common cold, is to be used for the prevention of vitamin C deficiencies, and to improve the general wellbeing among others.
The two most important factors when searching for quality nutritional supplements are potency and absorption. Our Isotonix Vitamin C sets itself apart from other products on the market by providing you with the maximum nutrient absorption in the shortest amount of time via our patented Isotonix delivery system. The liquid composition of Isotonix Vitamin C places vitamins and minerals like Vitamin C in an optimal position for absorption, ensuring a superior delivery to the body's systems to support a healthy immune system and provide antioxidant protection to the body.
Isotonix Delivery System
---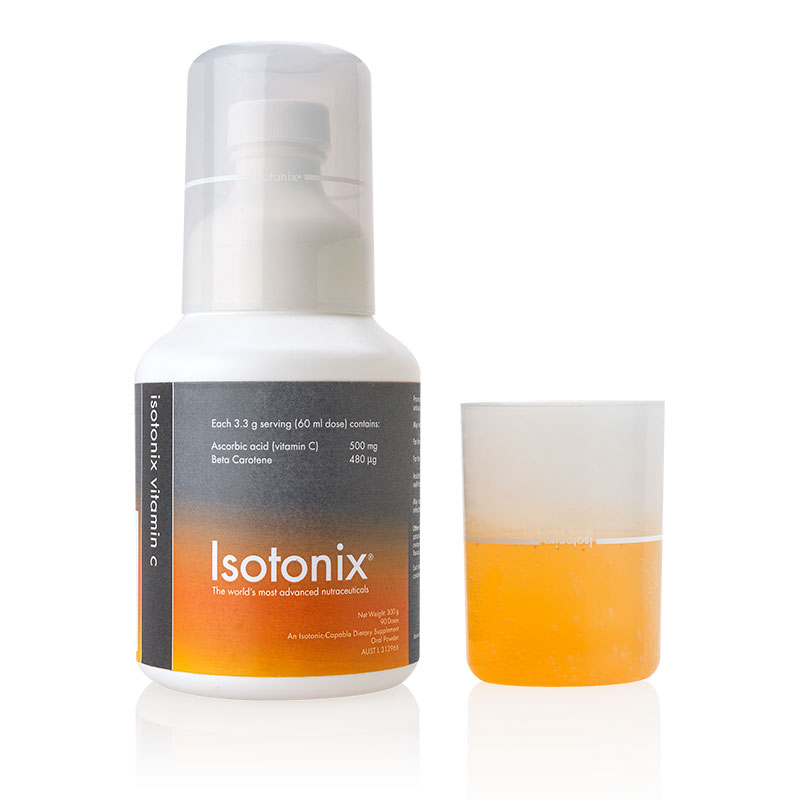 Isotonix - the World's Most Advanced Nutraceuticals
Isotonic, which means "same pressure," bears the same chemical resemblance of the body's blood, plasma and tears. All fluids in the body have a certain concentration, referred to as osmotic pressure. The body's common osmotic pressure, which is isotonic, allows a consistent maintenance of body tissues. In order for a substance to be absorbed and used in the body's metabolism, it must be transported in an isotonic state.

Isotonix dietary supplements are delivered in an isotonic solution. This means that the body has less work to do in obtaining maximum absorption. The isotonic state of the suspension allows nutrients to pass directly into the small intestine and be rapidly absorbed into the bloodstream. With Isotonix products, little nutritive value is lost, making the absorption of nutrients highly efficient while delivering maximum results.
Ingredients
---
Vitamin C (Ascorbic Acid)
The best food sources of vitamin C include all citrus fruits (oranges, grapefruit, lemons and tangerines), strawberries, tomatoes, broccoli, brussels sprouts, capsicums and cantaloupe. Vitamin C is a "fragile" vitamin and can be easily destroyed by cooking or exposure of food to oxygen.
Vitamin C contributes to the protection of cell constituents from oxidative stress, in addition to increasing iron absorption. Vitamin C contributes to normal collagen formation and the normal function of bones, teeth, cartilage, gums, skin and blood vessels. Vitamin C contributes to the normal function of both the immune and nervous systems. Vitamin C contributes to normal energy-yielding metabolism and it may contribute to the reduction of tiredness and fatigue. Vitamin C contributes to the regeneration of the reduced form of Vitamin E, and it also contributes to normal psychological functions.

Beta Carotene (Vitamin A Precursor)
Vitamin A is a fat-soluble vitamin that is part of a family of compounds including retinol, retinal and beta-carotene. Beta-carotene is also known as pro-vitamin A because it can be converted into vitamin A. The best sources of vitamin A include organ meats (such as liver and kidney) egg yolks, butter, carrot juice, squash, sweet potatoes, spinach, peaches, fortified dairy products (such as milk and some margarines) and cod liver oil. Vitamin A contributes to the maintenance of vision, skin, and mucous membranes. It contributes to the normal function of the immune system, normal cell differentiation and it has a role in the process of cell specialisation.
FAQs
---
What is the RDI of Vitamin C? Does Isotonix Vitamin C provide the RDI?
The RDI for the average adult male and female is 45 mg a day. Yes, Isotonix Vitamin C contains 500 mg of vitamin C per serving, which is an optimal amount for immune system maintenance. In times of illness or distress it may be helpful to supplement with a higher serving size of vitamin C.

Who needs to supplement with Isotonix Vitamin C Formula?
Basically, everyone over 18 should use Isotonix Vitamin C because our bodies do not make Vitamin C and very few of us get the recommended servings of fruits and vegetables in our daily diets. Those who may especially need supplemental vitamin C include the elderly, those with weakened immune systems, smokers, those under heavy amounts of stress, those with cardiovascular conditions and athletes.

Is it possible to take too much Isotonix Vitamin C Formula?
Ascorbic acid is extremely safe even at relatively high levels (because most of the excess is excreted in the urine). At high doses (over 1000mg/day), some people can experience gastrointestinal side effects such as stomach cramps, nausea, and diarrhoea. It is recommended that you take Vitamin C supplements in gradual servings throughout the day to achieve maximum benefits.

How do I take Isotonix Vitamin C?
Pour 1 level, white bottle capful (3.3g) of powder into the clear overcap. Add water to the line on the overcap (60 mL) and stir for one dose. Drink immediately after mixing is complete. As a dietary supplement, take once daily or as directed by your healthcare provider. Maximum absorption occurs when taken on an empty stomach. This product is isotonic only if the specified amounts of powder and water are used.

Are there any allergens with Isotonix Vitamin C?
This is a vegetarian product and contains no added wheat, soy, yeast, gluten, artificial flavour, starch, salt, preservatives or milk.
Science
---
Brody S, Preut R, Schommer K, Schurmeyer TH. A randomized controlled trial of high dose ascorbic acid for reduction of blood pressure, cortisol, and subjective responses to psychological stress. Psychopharmacology (Berl) 2002;159:319-24.
Carr A, Frei B. Does vitamin C act as a pro-oxidant under physiological conditions? FASEBJ. 1999; 13:1007-1024.
Carr AC, Tijerina T, Frei B. Vitamin C protects against and reverses specific hypochlorous acid- and chloramine-dependent modifications of low-density lipoprotein. Biochem J. 2000; 346 Pt 2:491-496.
Chandra RK. 1990 McCollum Award lecture. Nutrition and immunity: lessons from the past and new insights into the future. Am J Clin Nutr 1991;53:1087-101.
Chapter 5—Vitamin C. In: Dietary Reference Intakes for Vitamin C, Vitamin E, Selenium, and Carotenoids. A Report of the Panel on Dietary Antioxidants and Related Compounds, Subcommittees on Upper Reference Levels of Nutrients and Interpretation and Uses of Dietary Reference Intakes, and the Standing Committee on the Scientific Evaluation of Dietary Reference Intakes. Food and Nutrition Board, Institute of Medicine. National Academy Press:Washington, DC, 2000, pp. 95-185.
Cooke MS, Evans MD, Podmore ID, et al. Novel repair action of vitamin C upon in vivo oxidative DNA damage. FEBS Lett. 1998; 439:363-367.
Cosgrove J. Immune support-granting immunity. New ingredients join familiar favorites in the charge for immune enhancement. Nutritional Outlook 2000;41:4.
Daudu PA, Kelley DS, Taylor PC, Burri BJ, Wu MM. Effect of a low beta-carotene diet on the immune functions of adult women. Am J Clin Nutr. 1994 Dec;60(6):969-72.
Dietary Reference Intakes for Vitamin C, Vitamin E, Selenium, and Carotenoids. Washington, D.C.: National Academy Press; 2000.
Duffy SJ, Gokce N, Holbrook M, et al. Treatment of hypertension with ascorbic acid. Lancet. 1999; 354:2048-2049.
Elitsur Y, Neace C, Liu X, Dosescu J, Moshier JA. Vitamin A and retinoic acids immunomodulation on human gut lymphocytes. Immunopharmacology. 1997 Jan;35(3):247-53.
Enstrom JE, Kanim LE, Klein MA. Vitamin C intake and mortality among a sample of the United States population. Epidemiology. 1992; 3:194-202.
Friedman PA, Zeidel ML. Victory at C. Nature Med. 1999; 5:620-621.
Futoryan T, Gilchrest BA. Retinoids and the skin. Nutr Rev. 1994; 52:299-310.
Gamble J, Grewal PS, Gartside IB. Vitamin C modifies the cardiovascular and microvascular responses to cigarette smoke inhalation in man. Clin Science. 2000; 98:455-460.
Gromova EG, Sviridova SP, Kushlinskii NE, et al. Regulation of the indices of neuroendocrine status in surgical patients with lung cancer using optimal doses of ascorbic acid. Anesteziol Reanimatol 1990;5:71-4 [in Russian].
Halliwell B. Vitamin C: poison, prophylactic or panacea? Trends Biochem Sci. 1999; 24:255-259.
Hemila H, Douglas RM. Vitamin C and acute respiratory infections. Int J Tuberc Lung Dis. 1999; 3:756-761.
Hemilä H. Vitamin C intake and susceptibility to pneumonia. Pediatr Infect Dis J 1997;16:836-7.
Hemila H. Vitamin C intake and susceptibility to the common cold. British Journal of Nutrition 1997;77:59-72.
Hermansen K. Diet, blood pressure and hypertension. Br J Nutr. 2000; 83 Supp1:S113-S119.
Hunt C, Chakravorty NK, Annan G, Habibzadeh N, Schorah CJ. The clinical effects of vitamin C supplementation in elderly hospitalized patients with acute respiratory infections. Int J Vitam Nutr Res 1994;64:212-9.
Hwang J, Peterson H, Hodis HN, et al. Ascorbic acid enhances 17 beta-estradiol-mediated inhibition of oxidized low density lipoprotein formation. Atherosclerosis. 2000; 150:275-284.
Ip C. Interaction of vitamin C and selenium supplementation in the modification of mammary carcinogenesis in rats. J Nat Cancer Inst. 1986; 77:299-303.
Jacob RA. Vitamin C In: Shils ME, Olson JA, Shike M, Ross AC, eds. Modern Nutrition in Health and Disease. 9th ed. Baltimore, MD: William and Wilkins; 1999:467-483.
Jarosz M, Dzieniszewski J, Dabrowska-Ufniarz E, et al. Effects of high dose vitamin C treatment on Helicobacter pylori ingestion and total vitamin C concentration in gastric juice. Eur J Cancer Prev. 1998; 7:449-454.
Jayachandran M, Panneerselvam C. Cellular immune responses to vitamin C supplementation in aging humans assessed by the in vitro leucocyte migration inhibition test. Med Sci Res 1998;26:227-30.
Kurbacher CM, Wagner U, Kolster B, et al. Ascorbic acid (vitamin C) improves the antineoplastic activity of doxorubicin, cisplatin, and paclitaxel in human breast carcinoma cells in vitro. Cancer Letters. 1996; 103:183-189.
Moertel CG, Fleming TR, Creagan ET, et al. High-dose vitamin C versus placebo in the treatment of patients with advanced cancer who had no prior chemotherapy. A randomized double-blind comparison. N Engl J Med. 1985; 312:137-141.
Ness AR, Chee D, Elliot P. Vitamin C and blood pressure—an overview. J Hum Hypertens. 1997; 11:343-350.
Panda K, Chattopadhyay R, Ghosh MK, et al. Vitamin C prevents cigarette smoke induced oxidative damage of proteins and increased proteolysis. Free Rad Biol Med. 1999; 27:1064-1079.
Park JB, Levine M. Intracellular accumulation of ascorbic acid is inhibited by flavonoids via blocking of dehydroascorbic acid and ascorbic acid uptakes in HL-60, U937 and Jurkat cells. J Nutr. 2000; 130:1297-1302.
Pauling L. Evolution and the need for ascorbic acid. Proc Natl Acad SciUSA. 1970; 67:1643-1648.
Pauling L. The significance of the evidence about ascorbic acid and the common cold. Proc Natl Acad SciUSA. 1971; 68:2678-2681.
Penn ND, Purkins L, Kelleher J, Heatley RV, Mascie-Taylor BH, Belfield PW. The effect of dietary supplementation with vitamins A, C and E on cell- mediated immune function in elderly long-stay patients: a randomized controlled trial. Age Ageing 1991;20(3):169-174.
Peters EM, Anderson R, Nieman DC, et al. Vitamin C supplementation attenuates the increases in circulating cortisol, adrenaline and anti-inflammatory polypeptides following ultramarathon running. Int J Sports Med 2001;22:537-43.
Peters EM, Anderson R, Theron AJ. Attenuation of increase in circulating cortisol and enhancement of the acute phase protein response in vitamin C-supplemented ultramarathoners. Int J Sports Med 2001;22:120-6.
Podmore ID, Griffiths HR, Herbert KE, et al. Vitamin C exhibits pro-oxidant effects. Nature. 1998; 392:559.
Raitakari OT, Adams MR, McCredie RJ, et al. Oral vitamin C and endothelial function in smokers: short-term improvement, but no sustained beneficial effect. J Amer Coll Cardiol. 2000; 35:1616-1621.
Rehman A, Collis CS, Yang M, et al. The effects of iron and vitamin C co-supplementation on oxidative damage to DNA in healthy volunteers. Biochem Biophys Res Commun. 1998; 246:293-298.
Rivas CI, Vera JC, Guaiquil VH, et al. Increased uptake and accumulation of Vitamin C in human immunodeficiency virus 1-infected hematopoietic cell lines. J Biol Chem. 1997; 272:5814-5820.
Ross AC, Stephensen CB. Vitamin A and retinoids in antiviral responses. FASEB J. 1996; 10:979-985.
Ross AC. Vitamin A and retinoids. In: Shils ME, Olson JA, Shike M, Ross AC, eds. Modern Nutrition in Health and Disease. 9th ed. Baltimore, MD: Williams and Wilkins; 1999:305-327.
Rowe DJ, Ko S, Tom XM, et al. Enhanced production of mineralized nodules and collagenous proteins in vitro by calcium ascorbate supplemented with vitamin C metabolites. J Periodontol. 1999; 70:992-929.
Sakagami H, Satoh K, Hakeda Y, Kumegawa M. Apoptosis-inducing activity of vitamin C and vitamin K. Cell Mol Biol. 2000; 46:129-143.
Satterlee DG, Aguilera-Quintana I, Munn BJ, Krautmann BA. Vitamin C amelioration of the adrenal stress response in broiler chickens being prepared for slaughter. Comp Biochem Physiol A 1989;94:569-74.
Semba RD. The role of vitamin A and related retinoids in immune function. Nutr Rev. 1998 Jan;56(1 Pt 2):S38-48.
Semba RD. Vitamin A and immunity to viral, bacterial and protozoan infections. Proc Nutr Soc. 1999 Aug;58(3):719-27.
Semba RD. Vitamin A, immunity, and infection. Clin Infect Dis. 1994 Sep;19(3):489-99.
Simon JA, Hudes ES. Relationship of ascorbic acid to blood lead levels. J Amer Med Assoc. 1999; 281:2298-2293.
Simon JA, Hudes ES. Serum ascorbic acid and gallbladder disease prevalence among US adults. The Third National Health and Nutrition Examination Survey (NHANES III). Arch Intern Med. 2000; 160:931-936.
Skaper SD, Fabris M, Ferrari V, et al. quercetin protects cutaneous tissue-associated cell types including sensory neurons from oxidative stress induced by glutathione depletion: cooperative effects of ascorbic acid. Free Rad Biol Med. 1997; 22:669-678.
Sohlenius-Sternbeck A-K, Appelkvist E-L, De Pierre JW. Effects of vitamin A deficiency on selected xenobiotic-metabolizing enzymes and defenses against oxidative stress in mouse liver. Biochem Pharmacol. 2000; 59:377-383.
Taddei S, Virdis A, Ghiadoni L, et al. Vitamin C improves endothelium-dependent vasodilation by restoring nitric oxide activity in essential hypertension. Circulation. 1998; 97:2222-2229.
Thurnham DI. Micronutrients and immune function: some recent developments. J Clin Pathol. 1997 Nov;50(11):887-91.
Underwood BA, Arthur P. The contribution of vitamin A to public health. FASEB J. 1996; 10:1040-1048
Valkonen MM, Kuusi T. Vitamin C prevents the acute atherogenic effects of passive smoking. Free Rad Biol Med. 2000; 28:428-436.
Verlangieri AJ, Fay MJ, Bannon AW. Comparison of L-ascorbic acid and Ester C in the non-ascorbate synthesizing Osteogenic Disorder Shionogi (ODS) rat. Life Sci. 1991; 48:2275-2281.
WangY, Mackenzie B, Tsukaguchi H, et al. Human vitamin C (L-ascorbic acid) transporter SVCT1. Biochem Biophys Res Commun. 2000; 267:488-494.
Zhang HM, Wakisaka N, Maeda O, Yamamoto T. Vitamin C inhibits the growth of a bacterial risk factor for gastric carcinoma: Helicobacter pylori. Cancer. 1997; 80:1897-1903.
Zhou MS, Nishida Y, Yoneyama H, et al. Potassium supplementation increases sodium excretion in hypertensive Dahl rats. Clin Exp Hypertens. Agus DB, Gambhir SS, Pardridge WM, et al. Vitamin C crosses the blood-brain barrier in the oxidized form through the glucose transporters. J Clin Invest. 1997; 100:2842-2848.
Zhou X, Xie M, Niu C, Sun R. The effects of dietary vitamin C on growth, liver vitamin C and serum cortisol in stressed and unstressed juvenile soft-shelled turtles (Pelodiscus sinensis). Comp Biochem Physiol A Mol Integr Physiol 2003;135:263-70.
Zollinger PE, Tuinebreijer WE, Kreis RW, Breederveld RS. Effect of vitamin C on frequency of reflex sympathetic dystrophy in wrist fractures: a randomized trial. Lancet. 1999; 354:2025-2028.
TLS Product Reviews
---
Displaying reviews 1 - 5 of 19
---
LOVE MY ISOTONIX VITAMIN C
AM SO THANKFUL THAT I FINALLY FOUND A VITAMIN C THAT IS IN POWDER FORM SO IS EASY TO TAKE/DIGEST AND IT TASTES GREAT. JUST MIX IT INTO THE SERVE OF WATER WITH MY OTHER ISOTONIX PRODUCTS AND THEN DRINK.😃
---
Such great product! Love it and helps my family's immune system
---
之前用过很多牌子的维他命C,因为知道它是提高免疫力最好的产品。但是从味道到效果来讲都不是我很喜欢的。知道遇到等渗压系列的维他命C,味道超级好喝,而且去年一个冬天都没有发烧,感冒过两次但两天就好了,以前都要两个礼拜才可以好。而且我意外的发现我生完孩子脸上的色斑也淡了很多。非常开心,会一直用下去。
---
7/7/2020
by Thi Hoai ThuongN
My daughter have been sick frequently during this cold time ! She took different medicine but still going on ! But since I gave for her the ISotonix vitamin C to try ! After 2 days been used ! She stop coughing and sneezing! And she fell much better! So good , I will give her in regular basic!👍👍
---
You could really feel the difference quick!
During the cold and flu seasons, I taking 2 caps of this cause I can feel my immunity boosting up right away! The itchy throat goes way in a few minutes