Isotonix® Magnesium
FEATURED RECOMMENDATIONS
Benefits
---
Provides the body with 400 mg of magnesium
Decrease/reduce duration of mild migraine*
Prevention and treatment of magnesium and its nutritional deficiencies**
Supports muscle health
Supports healthy cardiovascular system function
Helps promote bone health
Ideal for diets lacking in dairy and dark green leafy vegetables
Highly bioavailable due to the forms of magnesium coupled with our superior Isotonix delivery system
This vegan product contains no added wheat, soy, yeast, gluten, artificial flavour, salt, preservatives or milk
Great tasting orange flavour
* If symptoms persist consult your healthcare practitioner
**Vitamins and/or mineral supplements should not replace a balanced diet.
Product Classifications
---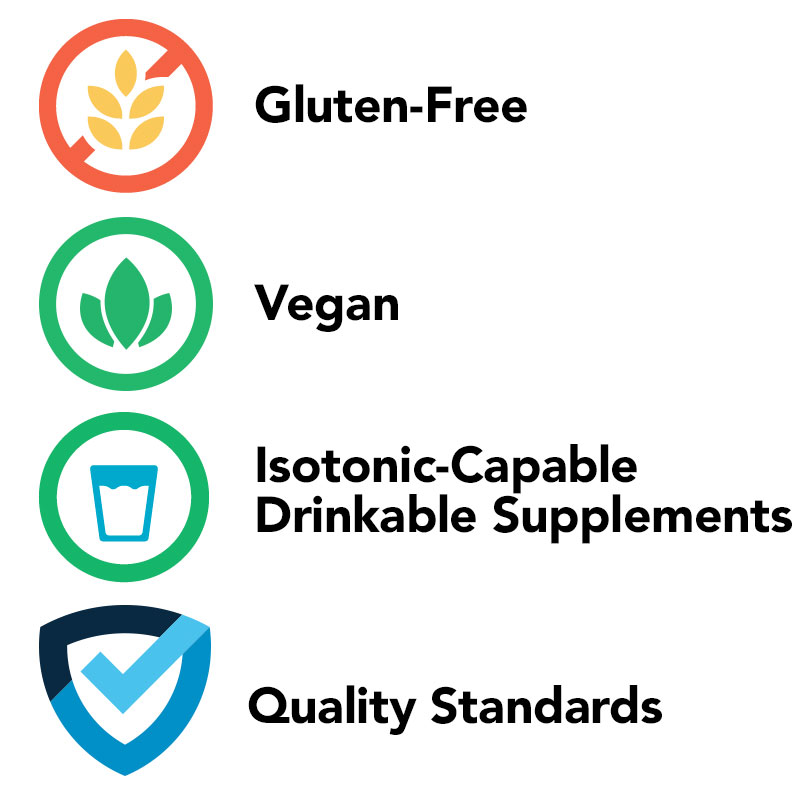 Gluten-Free - The finished product contains no detectable gluten (<10ppm gluten)
Vegan - This product is vegan
Isotonic-Capable Drinkable Supplements - Easy-to-swallow supplements in liquid form are immediately available to the body for absorption
Quality Standards - GMP Operations and Standardised Ingredients
Checked For: Heavy Metals, Microbiological Contaminants, Allergens, Potency, Purity and Identity
Compare
---
There are numerous magnesium supplements on the market today, but only Isotonix Magnesium combines a formula blending two different types of magnesium in an isotonic form for maximum absorption by the body with amazing value. Like calcium, magnesium is most impactful when taken in different forms. Magnesium bound to different amino acids like glycine and citrate allow the mineral to benefit multiple areas of the body. Magnesium in any form is beneficial; however, some of the best forms are citrate and glycinate. Both glycinate and citrate are gentle on the gastrointestinal tract while other forms like oxide have greater potential to be a laxative.
Magnesium, the fourth most abundant mineral in the body, is necessary for hundreds of functions. However, the average adult doesn't typically get enough of this important nutrient. For less than a two dollars a day, Isotonix Magnesium provides 400 mg of magnesium, an amount other products you see can't match. Don't be misled by competitors who advertise high numbers of magnesium compounds, what matters is that it has 400mg of elemental magnesium. Plus, with the revolutionary Isotonix Delivery System compared to a basic powder or tablet, you're giving your body what it needs and how it needs it, with a more highly bioavailable product.
Why Choose Isotonix Magnesium?
---
Isotonix Magnesium is a great tasting formula providing the body with 400 mg of magnesium in a highly-bioavailable formula. Thanks to its unique formula, which includes two different types of magnesium [Citrate and Glycinate] to increase its absorption by the body, Isotonix Magnesium helps promote bone health, supports healthy cardiovascular system function, while reducing duration of mild migraine , supporting muscle health and preventing or treating any magnesium nutritional deficiencies.

Magnesium is the fourth most abundant mineral in the body and supports more than 300 enzyme systems. It is required for energy, regulation of the body temperature, nerve function, adaptation to stress, metabolism and much more.

One of the main mechanisms of magnesium in the body is its support of normal protein synthesis. Normal protein synthesis relies on optimal magnesium concentrations, as magnesium supports the normal delivery to the building blocks of life – our DNA – of signals that trigger the expression of amino acids. In other words, this process supports the body's normal ability to "make" proteins.

The recommended daily intake for adults, established by the Australian government ranges from 310-420 mg per day. However, average daily intakes are much less. According to a CSIRO study approximately 50% of Australian men and 39% of Australian women are not getting enough Magnesium in their diet.

Very important to know that Magnesium deficiency is often misdiagnosed because it does not show up in blood tests because only 1% of the body's magnesium is stored in the blood. Magnesium deficiency can occur due to many reasons such as too much or not enough dietary protein, vomiting or diarrhoea, longstanding stress, ageing, strenuous exercise, or having a high alcohol, salt, or caffeine consumption. Unfortunately, if magnesium deficiency does occur, these inadequate levels of magnesium have been linked to poorer concentration, memory and cognitive function and muscle discomfort. Sleep quality is associated with higher levels of magnesium and when these levels are low, sleep quality may suffer.

Isotonix Delivery System
---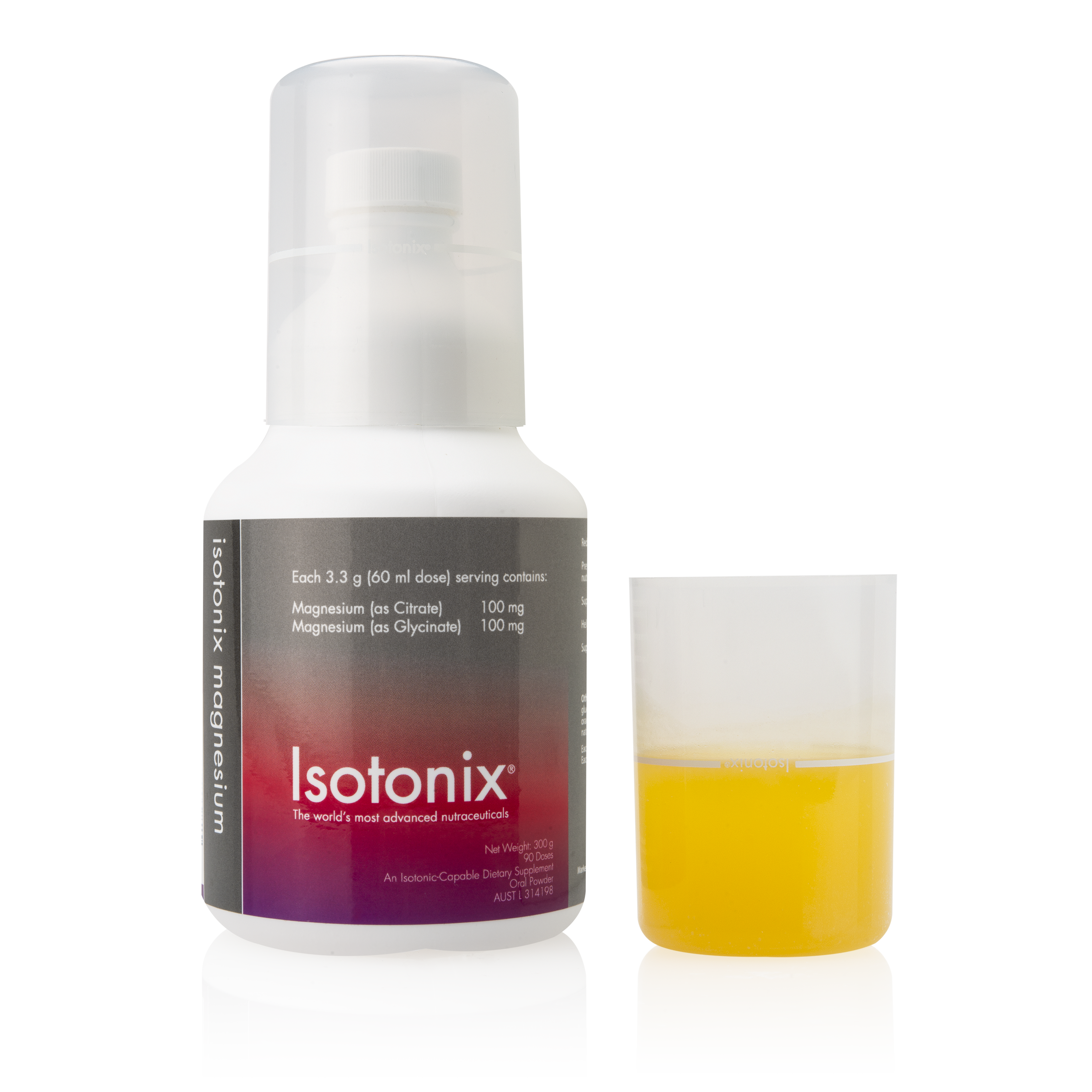 Isotonix - the World's Most Advanced Nutraceuticals
Isotonic, which means "same pressure," bears the same chemical resemblance of the body's blood, plasma and tears. All fluids in the body have a certain concentration, referred to as osmotic pressure. The body's common osmotic pressure, which is isotonic, allows a consistent maintenance of body tissues. In order for a substance to be absorbed and used in the body's metabolism, it must be transported in an isotonic state.

Isotonix dietary supplements are delivered in an isotonic solution. This means that the body has less work to do in obtaining maximum absorption. The isotonic state of the suspension allows nutrients to pass directly into the small intestine and be rapidly absorbed into the bloodstream. With Isotonix products, little nutritive value is lost, making the absorption of nutrients highly efficient while delivering maximum results.
Ingredients
---
Magnesium (Citrate & Glycinate): 400 mg
Magnesium is a component of the mineralised part of bone and supports the normal metabolism of potassium and calcium in adults. It helps maintain normal levels of potassium, phosphorus, calcium, adrenaline and insulin. It also promotes the normal mobilisation of calcium, transporting it inside the cell for further utilisation. It plays a key role in supporting the normal functioning of muscle and nervous tissue. Magnesium promotes the normal synthesis of all proteins, nucleic acids, nucleotides, cyclic adenosine monophosphate, lipids and carbohydrates.
Magnesium is required for release of energy and it promotes the normal regulation of body temperature and proper nerve function, it helps the body handle stress, and it promotes a healthy metabolism. Magnesium works together with calcium to help maintain the normal regulation of the heart and blood pressure. Importantly, magnesium also supports the body's ability to build healthy bones and teeth, and promotes proper muscle development. It works together with calcium and vitamin D to help keep bones strong. Magnesium also promotes cardiovascular health by supporting normal platelet activity.
FAQs
---
What benefits does magnesium provide the body?
With its involvement in supporting over 300 enzyme reactions, magnesium plays roles in many aspects of health. It is required for normal energy release, regulation of the body temperature, nerve function, adaptation to stress and metabolism.

With regards to bone health, it is an important component of the mineralised part of bone and supports the normal metabolism of calcium and potassium in adults. Magnesium works together with calcium and vitamin D to help keep bones strong and support bone mineral density.

Magnesium also supports muscle development and movement and the transmission of nerve impulses to the muscles. Studies clearly demonstrate the effects of supplemental magnesium on muscular health. Adequate magnesium levels are also important for cardiovascular health.

Studies show magnesium supports a regular heartbeat, thus promoting a healthy heart. Additionally, magnesium helps maintain normal blood pressure.

How much magnesium should I be getting, and why do I need a magnesium supplement versus getting it from my normal diet?
The recommended daily intake for adults, established by the Australian government ranges from 310-420 mg per day. See chart below.
Men
19-30 yr 330 mg/day 400 mg/day
31-50 yr 350 mg/day 420 mg/day
51-70 yr 350 mg/day 420 mg/day
>70 yr 350 mg/day 420 mg/day
Women
19-30 yr 255 mg/day 310 mg/day
31-50 yr 265 mg/day 320 mg/day
51-70 yr 265 mg/day 320 mg/day
>70 yr 265 mg/day 320 mg/day
https://www.nrv.gov.au/nutrients/magnesium
Daily lifestyle factors and poor dietary choices adversely affect the amount of magnesium we are ingesting. Foods rich in magnesium include whole grains, nuts and green vegetables, which are potent sources of magnesium because of their chlorophyll content. Meats, starches, dairy products and refined and processed foods – which make up a large portion of the typical diet in today's society – contain low amounts of magnesium. High-fat diets not only provide lesser amounts of magnesium, but studies have shown that such a diet might even cause less magnesium to be absorbed by the body.

Even with a proper, balanced diet, the amount of nutrients in foods today vastly differs from those of even a generation ago. In addition, food preparation methods may decrease the magnesium content of food. For these reasons, it is important to help balance our diets with nutritional supplements that can provide additional nutritional assistance.

Why were these forms of magnesium (citrate and glycinate) chosen?
Both of these forms of magnesium were carefully chosen based on the latest scientific rationale, as they have been shown to have excellent oral absorption rates and work well within the Isotonix® delivery system.

Does this product need to be taken on an empty stomach?
Yes. For maximum absorption, the product should be taken on an empty stomach.

Is there anyone who should not take this product?
Anyone who has an ongoing medical condition, is pregnant or breastfeeding, or is taking prescription medication should speak with their healthcare provider before taking this product. Also, magnesium should be used cautiously by those with reduced kidney function.

What other health & nutrition products would complement Isotonix Magnesium?
The benefits of Isotonix Magnesium are complemented by Isotonix OPC-3®, Isotonix Calcium Plus, and Heart Health Omega III Fish Oil.
Science
---
Houston M. The role of magnesium in hypertension and cardiovascular disease. J Clin Hypertens (Greenwich). 13(11):843-7, 2011. Review.
Institute of Medicine. Food and Nutrition Board. Dietary Reference Intakes: Calcium, Phosphorus, Magnesium, Vitamin D and Fluoride. National Academy Press. Washington, DC, 1999.
Appel LJ. Nonpharmacologic therapies that reduce blood pressure: A fresh perspective. Clin Cardiol. 22:1111-5, 1999.
Svetkey LP et al. Effects of dietary patterns on blood pressure: Subgroup analysis of the Dietary Approaches to Stop Hypertension (DASH) randomized clinical trial. Arch Intern Med. 159:285-93, 1999.
Peacock JM et al. Relationship of serum and dietary magnesium to incident hypertension: the Atherosclerosis Risk in Communities (ARIC) Study. Annals of Epidemiology. 9:159-65, 1999.
Widman L et al. The dose-dependent reduction in blood pressure through administration of magnesium. A double blind placebo controlled cross-over study. Am J Hypertens. 6:41-5, 1993.
Altura BM and Altura BT. Magnesium and cardiovascular biology: An important link between cardiovascular risk factors and atherogenesis. Cell Mol Biol Res. 41:347-59, 1995.
Wester PO. Magnesium. Am J Clin Nutr. 45:1305-12, 1987.
Saris NE, Mervaala E, et al. Magnesium: an update on physiological, clinical, and analytical aspects. Clinica Chimica Acta. 294:1-26, 2000.
Sanjuliani AF et al. Effects of magnesium on blood pressure and intracellular ion levels of Brazilian hypertensive patients. Int J Cardiol. 56:177-83, 1996.
Shechter M et al. Effects of oral magnesium therapy on exercise tolerance, exercise-induced chest pain, and quality of life in patients with coronary artery disease. Am J Cardiol. 91:517-21, 2003.
Jee SH et al. The effect of magnesium supplementation on blood pressure: a meta-analysis of randomized clinical trials. Am J Hypertens. 15:691-6, 2002.
Preuss HG, Gondal JA, Lieberman S. Association of macronutrients and energy intake with hypertension. J Am Coll Nutr. 15:21-35, 1996.
Shechter M et al. Oral magnesium therapy improves endothelial function in patients with coronary artery disease. Circulation.102:2353-58, 2000.
Khosh, F. Natural approach to hypertension. Alternative Medicine Review. 6(6), 2001.
Vormann J. Magnesium: nutrition and metabolism. Molecular Aspects of Medicine. 24:27-37, 2003.
Rude KR. Magnesium metabolism and deficiency. Endocrinol Metab Clin North Am. 22:377-95, 1993.
Kobrin SM and Goldfarb S. Magnesium Deficiency. Semin Nephrol.10:525-35, 1990.
Lopez-Ridaura R et al. Magnesium intake and risk of type 2 diabetes in men and women. Diabetes Care. 27:134-40, 2004.
Paolisso G et al. Daily magnesium supplements improve glucose handling in elderly subjects. Am J Clin Nutr. 55:1161-7, 1992.
Rodriguez-Moran M and Guerrero-Romero F. Oral magnesium supplementation improves insulin sensitivity and metabolic control in type 2 diabetic subjects. Diabetes Care. 26:1147-52, 2003.
Kobrin SM and Goldfarb S. Magnesium Deficiency. Semin Nephrol. 10:525-35, 1990.
Meyer KA et al. Carbohydrates, dietary fiber, and incident type 2 diabetes in older women. Am J Clin Nutr. 71:921-30, 2000.
Song Y et al. Dietary magnesium intake in relation to plasma insulin levels and risk of type 2 diabetes in women. Diabetes Care. 27:59-65, 2004.
Huerta MG, Roemmich JN, Kington ML, et al. Magnesium deficiency is associated with insulin resistance in obese children. Diabetes Care. 28:1175-81, 2005.
Sales CH et al. Influence of magnesium status and magnesium intake on the blood glucose control in patients with type 2 diabetes. Clin Nutr. 30(3):359-64, 2011.
Trauninger, A., et al. Oral magnesium load test in patients with migraine. Headache. 42(4):114-119, 2002.
Sinclair, S., et al. Migraine headaches: nutritional, botanical and other alternative approaches. Alternative Medicine Review. 4(2):86-95, 1999.
Maizels, M., et al. A combination of riboflavin, magnesium, and feverfew for migraine prophylaxis: a randomized trial. Headache. 44(9):885-90, 2004.
Woolhouse, M. Migraine and tension headache--a complementary and alternative medicine approach. Aust Fam Physician. 34(8):647-51, 2005. Review.
Brown R. and Gerbarg P. Herbs and nutrients in the treatment of depression, anxiety, insomnia, migraine, and obesity. J Psychiatr Pract. 7(2):75-91, 2001.
Peikert, A., et al. Prophylaxis of migraine with oral magnesium: Results from a prospective, multi-center, placebo-controlled and double-blind randomized study. Cephalalgia. 16(4):257-63, 1996.
Mauskop, A., et al. Role of magnesium in the pathogenesis and treatment of migraines. Clin Neurosci. 5(1):24-27, 1998.
Demirkaya S et al. A comparative study of magnesium, flunarizine and amitriptyline in the prophylaxis of migraine. J Headache Pain. 1:179-86, 2000.
Wang, F., et al. Oral magnesium oxide prophylaxis of frequent migrainous headache in children: a randomized, double-blind, placebo-controlled trial. Headache. 43(6):601-610, 2003.
Tucker KL, Hannan MT, Chen H, Cupples LA, Wilson PW, Kiel DP. Potassium, magnesium, and fruit and vegetable intakes are associated with greater bone mineral density in elderly men and women. Am J Clin Nutr. 69(4):727-36, 1999.
Elisaf M, Milionis H, Siamopoulos K. Hypomagnesemic hypokalemia and hypocalcemia: Clinical and laboratory characteristics. Mineral Electrolyte Metab. 23:105-12, 1997.
Stendig-Lindberg G et al. Trabecular bone density in a two year controlled trial of peroral magnesium in osteoporosis. Magnes Res. 6:155-63, 1993.
Tranquilli AL et al. Calcium, phosphorus and magnesium intakes correlate with bone mineral content in postmenopausal women. Gynecol Endocrinol. 8:55-8, 1994.
Institute of Medicine. Food and Nutrition Board. Dietary Reference Intakes: Calcium, Phosphorus, Magnesium, Vitamin D and Fluoride. National Academy Press. Washington, DC, 1999.
New SA et al. Nutritional influences on bone mineral density: a cross-sectional study in premenopausal women. Am J Clin Nutr. 65:1831-9, 1997.
Gruber H et al. Magnesium deficiency: effect on bone mineral density in the mouse appendicular skeleton. BMC Musculoskelet Disord. 4(1):7, 2003.
Ryder K et al. Magnesium intake from food and supplements is associated with bone mineral density in healthy older white subjects. J Am Geriatr Soc. 53(11):1875-1880, 2005.
Rude R et al. Magnesium deficiency and osteoporosis: animal and human observations. J Nutr Biochem. 15(12):710-716, 2004.
Bilbey, D.L. J., et al. Muscle cramps and magnesium deficiency: case reports. Can Fam Physician. 42:1348-51, 1996.
Dahle, L. O., et al. The effect of oral magnesium substitution on pregnancy-induced leg cramps. Am J Obstet Gynecol. 173(1):175-180, 1995.
Roffe, C., et al. Randomised, cross-over, placebo controlled trial of magnesium citrate in the treatment of chronic persistent leg cramps. Med Sci Monit. 8(5):CR326-CR330, 2002.
Saris, N.-E. L., et al. Magnesium: an update on physiological, clinical and analytical aspects. Clinica Chimica Acta. 294:1-26, 2000.
Yu-Yahiro, J. A. Electrolytes and their relationship to normal and abnormal muscle function. Orthop Nurs. 13(5):38-40, 1994.
Brilla, L. R., et al. Effect of magnesium supplementation on strength training in humans. J Am Coll Nutr. 11(3):326-329, 1992.
Caddell JL. Magnesium deficiency promotes muscle weakness, contributing to the risk of sudden infant death (SIDS) in infants sleeping prone. Magnes Res. 14(1-2):39-50, 2001. Review.
Hornyak M et al. Magnesium therapy for periodic leg movements-related insomnia and restless legs syndrome: an open pilot study. Sleep. 21:501-5, 1998.
Popoviciu L et al. Clinical, EEG, electromyographic and polysomnographic studies in restless legs syndrome caused by magnesium deficiency (abstract). Rom J Neurol Psychiatry. 31:55-61, 1993.
Tanabe, K., et al. Erythrocyte magnesium and prostaglandin dynamics in chronic sleep deprivation. Clin Cardiol. 20(3):265-268, 1997.
Tanabe, K., et al. Efficacy of oral magnesium administration on decreased exercise tolerance in a state of chronic sleep deprivation. Jpn Circ J. 62(5):341-346, 1998.
Chollet D et al. Blood and brain magnesium in inbred mice and their correlation with sleep quality. Am J Physiol Regul Integr Comp Physiol. 279(6):R2173-8, 2000.
Barker J. Insomnia options; natural medicine choices. Townsend Letter for Doctors and Patients. April 2004.
Sato-Mito N et al. The midpoint of sleep is associated with dietary intake and dietary behavior among young Japanese women. Sleep Med. 12(3):289-94, 2011.
Corsonello A et al. Serum magnesium levels and cognitive impairment in hospitalized hypertensive patients. Magnes Res. 14(4):273-82, 2001.
Saris, N.-E. L., et al. Magnesium: an update on physiological, clinical and analytical aspects. Clinica Chimica Acta. 294:1-26, 2000.
Huskisson E et al. The influence of micronutrients on cognitive function and performance. J Int Med Res. 35(1):1-19, 2007. Review.
Guran T et al. Cognitive and psychosocial development in children with familial hypomagnesaemia. Magnes Res. 24(1):7-12, 2011.
Inna Slutsky et al. Enhancement of Learning and Memory by Elevating Brain Magnesium. Neuron. 65(2):165-77, 2010.
TLS Product Reviews
---
Displaying reviews 1 - 5 of 39
---
Great product and efficient delivery.
---
I love the taste of my new fav combo, OPC3 + B Complex + Magnesium.
Response from Customer Service:
11/5/2022
Dear Valued Customer,

Thank you for taking the time to leave your thoughts on the Isotonix® Magnesium. We are happy to hear you are pleased with the product.

Thank you again! Market Singapore Product Team
---
Yvonne Shop Consultant 25 Aug 2020
Since taking Isotonix Magnesium, I no longer suffer painful
leg cramps at night.
So thankful for such an amazing product.
---
I used to have cramps at night and since that the Isotonix Magnesium before sleep, it hasn't happened. So good not to wake up screaming in pain anymore!
---
Magnesium has so many benefits! My favorite is that it helps me fall asleep. I take it right before bed time.
Response from Customer Service:
27/7/2020
Dear Valued Customer,

Thank you for taking the time to share your thoughts on the Isotonix Magnesium! We are happy to hear you are pleased with the product.

Thank you again!
The Product Information Team