Isotonix® Daily Essentials Kit
$260.25 AUD
$290.25 AUD
$4.73 AUD
Kit contains a 90-day supply of each: Isotonix® OPC-3, Isotonix® Advanced B-Complex, Isotonix® Calcium Plus & Isotonix® Multivitamin
SKU: 713044
FEATURED RECOMMENDATIONS
Benefits
---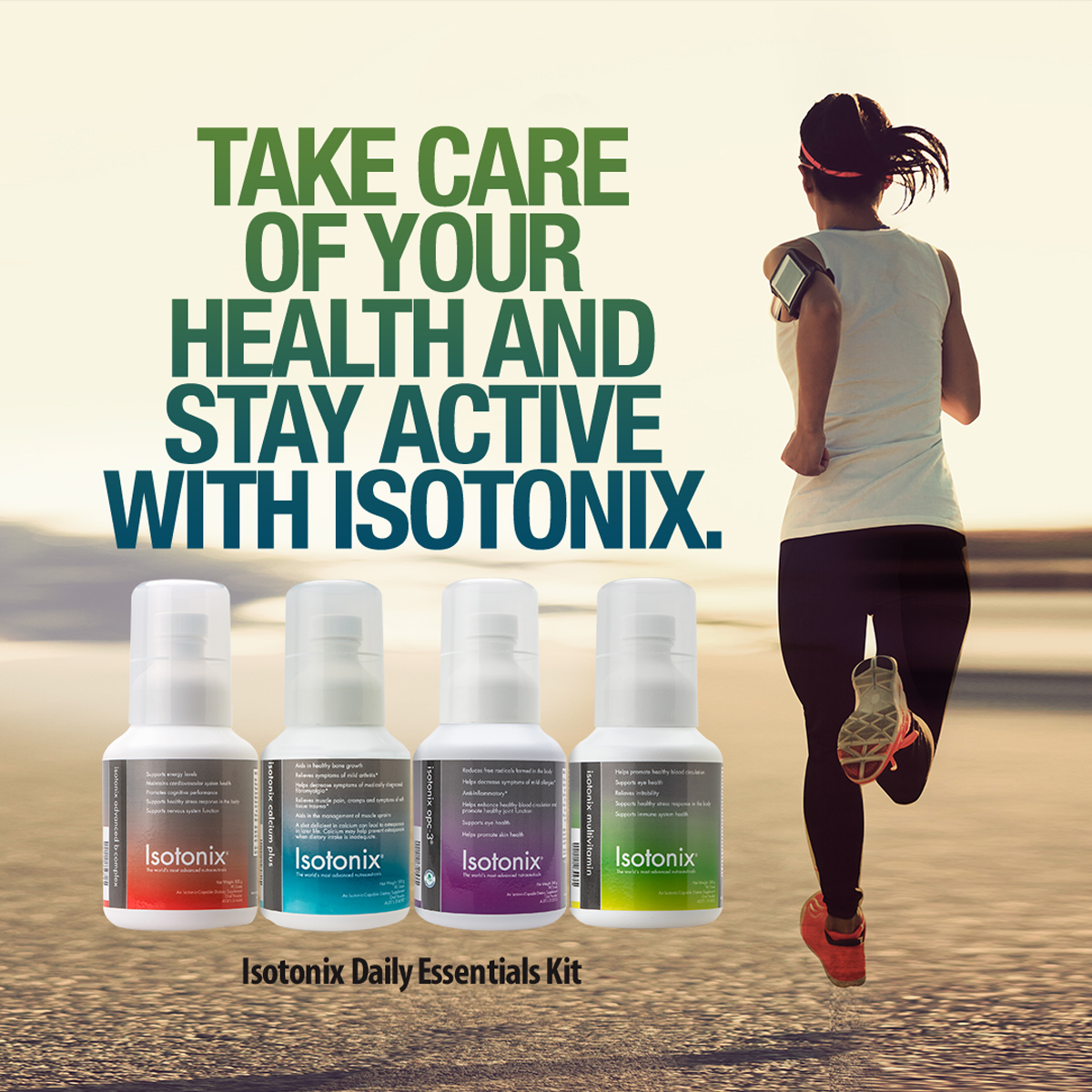 Primary Benefits of Isotonix Daily Essentials Kit:
You can save money on the kit compared to purchasing kit products individually!
Receive essential vitamin and mineral supplementation
Supports cardiovascular system health
Supports energy, relieves symptoms of stress, and helps enhance general health and wellbeing*
Promotes cognitive performance
Helps maintain immune system and with antioxidant protection (free radicals)
Support bones, muscles, and symptoms of mild arthritis
These vegetarian products contain no added wheat, soy, yeast, artificial flavour, salt, preservatives or milk
Offered with the fastest and most efficient delivery system of all nutraceuticals - Isotonix
Contains the following products and their benefits:
Isotonix OPC-3
Reduces free radicals formed in the body
Promotes blood vessel health
*Anti-Inflammatory
Helps enhance healthy blood circulation
Helps promote healthy joint function
Supports healthy cardiovascular system function
Support eye health
Helps promote skin health
Maintain sperm health
*Relieve symptoms of sinusitis
Helps support healthy cholesterol
*Helps decrease symptoms of mild allergies
Supports healthy eye function
Helps support healthy blood sugar
Contains a unique combination of five bioflavonoids, one of which is the most clinically researched pine bark extract, Pycnogenol® †
Isotonix Multivitamin
Multivitamin and multimineral formula containing 100 percent or more of the daily value of many essential vitamins and minerals
Easy-to-take, delicious, once-a-day formula to get what you need daily
Maintains immune system health
Support blood health
Support healthy stress response in the body
**Support vitamins within normal range
Supports eye health
Promotes healthy digestion
*Relieve irritability
Helps promote blood circulation to the peripheral areas of the body (legs, hands and feet)
Helps enhance healthy blood circulation
Helps promote blood capillary health
Isotonix Advanced B-Complex
Supports energy levels
Promotes cognitive performance
Supports cardiovascular system health
Supports healthy stress response in the body
Assists in healthy red blood cell production
Supports nervous system function
Helps decrease homocysteine levels
Supports blood vessel health
Helps enhance general health and wellbeing
One serving supplies over 100 percent of RDI of eight key B vitamins, including vitamins B2, B6, and B12 to ensure maximum utilisation by the body for optimal results
Supplementation is ideal when dietary B vitamin intake is inadequate; as B vitamins found in food are easily destroyed by food preparation, cooking and alcohol.
Busy lifestyles, stress, fasting, certain diets, and weight-loss can cause Vitamin B deficiencies, hence supplementing is essential
B vitamins are needed to support many vital bodily functions and should be replenished on a daily basis
Isotonix Calcium Plus
*Helps relieve symptoms of mild medically diagnosed tenosynovitis
*Helps decrease symptoms of medically diagnosed fibromyalgia
*Relieve symptoms of stress
*Relieve symptoms of menopause
*Relieve irritability
*Reduce mild migraine symptoms
*Decrease symptoms of mild anxiety
*Helps relieve symptoms of mild tension headache
*Relieve symptoms of premenstrual tension
*Relieve menstrual cramps
*Relieve symptoms of mild sciatica
*Relieve muscle pain
*Relieve muscle cramps
Helps promote blood circulation to the peripheral areas of the body (legs, hands and feet)
Aids in healthy bone growth
*Relieve symptoms of soft tissue trauma
Aids in the management of muscle sprains
A diet deficient in calcium can lead to osteoporosis in later life. Calcium may help prevent osteoporosis when dietary intake is inadequate.
*Relieve symptoms of mild arthritis
*If symptoms persist or worsen consult your medical practitioner or healthcare professional.
**Vitamins and/or mineral supplements should not replace a balanced diet.
Product Classifications
---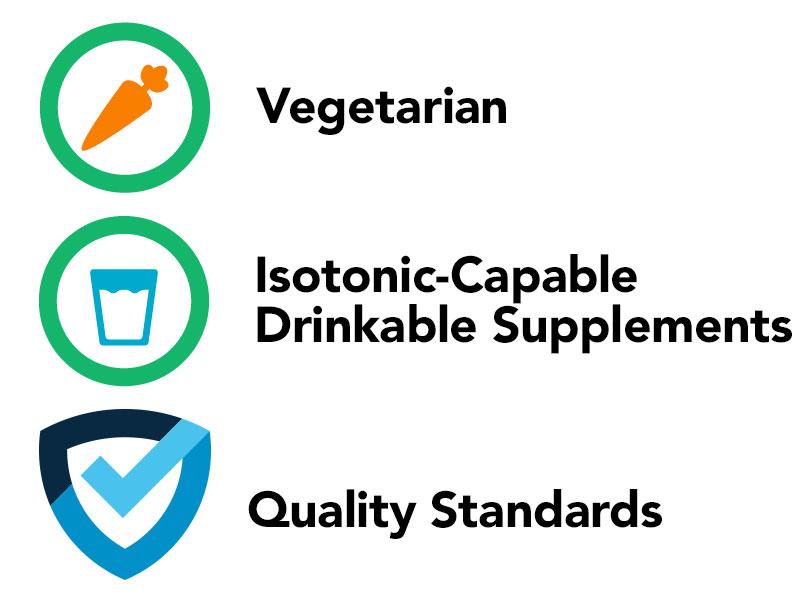 Vegetarian - This product is vegetarian
Isotonic-Capable Drinkable Supplements - Easy-to-swallow supplements in liquid form are immediately available to the body for absorption
Quality Standards - GMP Operations and Standardised Ingredients
Checked For: Heavy Metals, Microbiological Contaminants, Allergens, Potency, Purity and Identity
Why Choose Isotonix Daily Essentials Kit?
---
There's nothing more important than taking care of yourself on a daily basis. With the Isotonix Daily Essentials Kit, you can be sure that you're giving your body the essential vitamins, minerals and nutrients it needs thanks to four essential supplements – Isotonix OPC-3, Isotonix Multivitamin, Isotonix Advanced B-Complex and Isotonix Calcium Plus – to promote long-term health and optimal nutrition.

Plus, by purchasing the Isotonix Daily Essentials Kit instead of buying these products individually, you save money!

Caring for your general health starts with Isotonix OPC-3, a powerful antioxidant that provides a variety of health benefits associated with general health and well-being. In addition to demonstrating anti-inflammatory activity, sinus relief, decreasing symptoms of mild allergies, cardiovascular health, promote joint health and eye and skin health, Isotonix OPC-3 helps the body function at its peak by combating free radicals throughout your body. Isotonix OPC-3 contains the only isotonic form of Pycnogenol® in the world. Pycnogenol is a natural plant extract from the bark of the French maritime pine tree and the most clinically researched and potent bioflavonoid. Grape seed and red wine extracts are also superior sources of OPC. Isotonix OPC-3 contains the most bioavailable and potent forms of OPCs. Bilberry, grape seed and pine bark contain bioflavonoids known as anthocyanosides and proanthocyanidins. These antioxidant compounds are known to be 20 times more powerful than vitamin C and 50 times more powerful than vitamin E in quenching free radicals.

Next, Isotonix Multivitamin is an isotonic-capable food supplement containing 100 percent or more of the daily value of many essential vitamins and minerals to complement your diet. There are wide varieties of vitamin and mineral supplements on the market today. Only Isotonix Multivitamin contains a unique blend of complimentary vitamins and minerals with the superior delivery of Isotonix. With today's fast-paced lifestyles, it is important to ensure the body is getting the fuel it needs. Isotonix Multivitamin supplements dietary deficiencies and helps maintain immune system health, support blood health and circulation, support healthy stress response in the body, eye health, and promotes healthy digestion. Isotonix Multivitamin is a great supplement choice for all adults and especially for athletes, growing teenagers and pre-menopausal women. This product should be taken daily in addition to your dietary regimen. Multivitamin will establish a sound micronutrient foundation.

To provide the increased energy you need to function throughout the day, this kit includes Isotonix Advanced B-Complex, which delivers a combination of the eight essential B-vitamins that play a critical role in metabolism at the cellular level. B-vitamins are important for hundreds of biochemical reactions in the body. B vitamin deficiency can lead to fatigue and lethargy, which is why B-complex supplements are excellent energy boosters and anti-stress formulas. Because many vegetarian diets are lacking in the essential B-vitamins, Isotonix B-Complex meets the need for B-vitamins for vegetarians.

Finally, Isotonix Calcium Plus delivers a potent package of calcium and complementary nutrients to keep your bones strong. While calcium supplements in tablet form can be difficult for the body to absorb, the unique Isotonix delivery system and the inclusion of beneficial vitamins and minerals – including vitamin D – make Isotonix Calcium Plus more readily bioavailable and easily absorbed by the body.

Optimum health can be achieved thanks to the best nutritional supplements on the market: Isotonix. And with the Isotonix Daily Essential Kit, we're helping make your long-term health goals and ability to achieve optimal nutrition a little easier to attain.
Isotonix Delivery System
---
Isotonix - the World's Most Advanced Nutraceuticals
Isotonic, which means "same pressure," bears the same chemical resemblance of the body's blood, plasma and tears. All fluids in the body have a certain concentration, referred to as osmotic pressure. The body's common osmotic pressure, which is isotonic, allows a consistent maintenance of body tissues. In order for a substance to be absorbed and used in the body's metabolism, it must be transported in an isotonic state.

Isotonix dietary supplements are delivered in an isotonic solution. This means that the body has less work to do in obtaining maximum absorption. The isotonic state of the suspension allows nutrients to pass directly into the small intestine and be rapidly absorbed into the bloodstream. With Isotonix products, little nutritive value is lost, making the absorption of nutrients highly efficient while delivering maximum results.
FAQ
---
Can the Isotonix Daily Essentials Kit products be taken at the same time?
Yes. The Isotonix Daily Essentials Kit products can safely be taken at the same time, provided that one follows the recommended serving size for each product.

Why are Isotonix supplements better than standard supplements?
Isotonix formulas are more effective than standard supplement formulas because they offer the best way to get the maximum delivery of vitamins and minerals into the bloodstream. Isotonix formulas are also the fastest and most effective way to receive vitamins, minerals and nutrients. The stomach has very little work to do because the pH and tonicity are carefully designed to allow the stomach to quickly release all the nutrients into the small intestine. With the Isotonix formulas, this process takes about five minutes, where a standard vitamin tablet can take up to four hours.

What sets Isotonix OPC-3 apart from other bioflavonoid products?
Isotonix OPC-3 offers scientifically-supported oligomeric proanthocyanidins, or OPCs, found to be the most powerful antioxidants for human health. In addition to being powerful antioxidants, these individual OPCs have been shown to provide a myriad of specific health benefits. This science-driven selection of OPCs is unique to OPC-3, as is the Isotonix delivery system, which enables rapid and highly efficient absorption of the OPCs. The potent nutrients, in combination with the highly effective delivery system, makes OPC-3 the most powerful free radical scavenging product available.
Why do I need to take a multivitamin?
A good quality vitamin and mineral supplement creates a sound micronutrient foundation to accompany a balanced diet and aid in the maintenance or improvement of general well being. It should also contain 100 percent or more of most of the daily values of vitamins and minerals to help supplement deficiencies in diet.

Why should I take calcium?
Everyone needs calcium. Practically no one ingests enough calcium in their daily diet. Besides being helpful in supporting and maintaining bone integrity, calcium serves a dynamic role as a mineral. It's very important in supporting the activity of many bodily enzymes and maintaining proper fluid balance.

I am healthy and athletic, why should I take Isotonix OPC-3?
Everyone is vulnerable to the aging process caused by continuous free radical damage. Athletes tend to be exposed to elevated levels of oxidative stress. Free radicals develop as byproducts during metabolism when calories are processed with oxygen. Athletes inhale 10 to 20 times more oxygen during physical activity over rest periods. The increase in activity creates additional free radicals. In fact, these free radicals are known to limit performance, as free radicals appear to take their toll on muscle tissue. Studies on recreational athletes have shown a 20 percent endurance increase with OPCs, as compared to a control group receiving a placebo. Another study has shown that athletes using OPCs suffered significantly less muscle cramping during and after performing.
TLS Product Reviews
---
Displaying reviews 1 - 5 of 12
---
Started using the essential kit with Isotonix Digestive in August 2021 -after about a month, it has helped my husband with his constipation problems. He's able to go to the toilet daily and no more straining. Added Isochrome a week ago to see if it will help to regulate his sugar level.
Response from Customer Service:
23/9/2021
Hi Sofia, thank you for the positive review you in regards to our Isotonix Essentials Kit! We are so pleased to hear your experience with the product. Thank you from Market Australia.

---
Easy option/choice when you are starting out
Definitely recommend this essentials kit. You save money by buying this group of products. It is brilliant to start with and worth every penny. I love all 4 products. Take my B complex, OPC3 and multivitamin every day. Take my calcium with magnesium at night before i sleep.
Response from Customer Service:
13/7/2021
Thank you for your positive feedback in regards to our Isotonix Daily Essential Kit! We are so pleased to hear your experience with the product. Thank you from Market Australia.
---
我喜欢每日精选系列,因为它带来给我很多方便已及每天摄取足够的维生素和健康养分吸收。
我平常忙着工作,不能从我的食物中含有大量维生素。 上班前只要一杯每日精选就能有足够的营养补充。 我选择每日精选系列产品❤️
---
Essentials for your Health
These four are the king of kings of supplements! Your body cannot make them so you have to take them. OPC3 - best antioxidants for immune system, Calcium Plus - for bone and brain health, B Complex - destressor and energy booster, Multivitamin - important foundation for all bodily functions.
---
一直以来都有在吃保健品的习惯, 但是市面上颗粒的保健品实在是不太受喜欢, 吸收不高,又难吞咽。 直到找到这款等渗透的保健品,吃了差不多有5个多月了, 可以明显的感觉到身体的变化。 精神状况变得很好, 睡眠有很大的改善,皮肤也变好了。 是一款会一直服用的营养品~~~